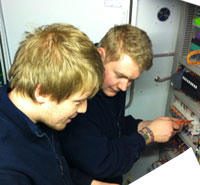 The University Estate currently has in excess of 265 operational lifts; a number which is increasing year on year as the Operational Estate continues to develop, both through new buildings and the refurbishment of existing ones. The legislation that governs lift installations has become more rigorous in recent years, not only in terms of technical standards of the lift itself, but also in the need to comply with recent changes in Fire Safety Legislation and DDA accessibility and safety.
As part of the Lift Maintenance team, Lee and Scott carry out the following: routine servicing and safety inspections of all lift equipment to make sure the high-standards are being maintained, and that all equipment remains safe to use in between periodic inspections by an external insurance assessor. They also work with the insurance inspector to make sure that any defects found with the lift equipment are rectified as soon as practicably possible.
They attend a variety of call outs (both emergency and non-emergency calls), and pride themselves on attending quickly, and resolving any problems with a view to having the lift out of service for as little time as possible. They can attend emergency entrapments during working hours and outside working hours, and aim to provide a service where between the call being made and an engineer attending the entrapment to get the person out of the lift, no more than an hour elapses.
Lee and Scott also carry out both minor and major repairs to a variety of lifts throughout the university. They have a variety of lift equipment - ranging from lifts which were installed in the early 60's to modern lift equipment which uses highly advanced technology to provide an efficient, effective service to the people who use them. It is always a challenge working on the lifts as they all have their own idiosyncrasies, and it is important to keep on top of these and know what they are if they are to be fixed quickly. Call out jobs are rarely the same which means they have to go to every job with an open mind, taking everything into consideration.
Both Lee and Scott have completed an NVQ level 3 in Lift Maintenance and Repair. They have had continued support throughout the course from the CareerStart @cam team at PPD, which was a great help. The training has given them the fundamental safety grounding for working on lifts. They have also built up a portfolio of the work they have carried out in order to achieve the qualification.